Skip to Content
Basic Difference between Apartments vs. Condos
Welcome to Westbay Management Company, your one-stop-shop for luxury apartment living in Lansing, Michigan! As a premier property management company, we take pride in offering our customers top-quality apartments and condos that are perfect for those seeking convenience and luxury living.
One question that often arises when it comes to apartment living is the difference between apartments and condos. In this blog post, we'll explore the key differences between apartments and condos so that you can make the best choice for your lifestyle. From ownership to maintenance and fees, we're here to guide you through it all.
Condo vs Apartment: Ownership
Apartments are generally owned by one entity, such as a corporation or individual landlord, and rented out to tenants. In contrast, condos usually involve ownership of the unit or space by an individual owner. So, if you are looking for a long-term investment and are willing to assume the risks associated with owning property, condos may be the right choice for you. However, if you prefer the peace of mind that comes with renting, apartments are the way to go.
Monthly Payments
Because of the ownership difference, monthly payments for apartments and condos also differ. Rent for an apartment is usually a flat rate every month, while condo owners must pay a mortgage, along with any additional fees and assessments determined by the condo association.
Design and Layout
The structures and layouts of apartments and condos are also different. Apartments are often designed with efficiency in mind, which can result in smaller spaces. Condos tend to offer more spacious living areas with unique design features.
Location
Apartments and condos also tend to have different locations. Apartments are often located in bustling urban areas, while condos can be located in quieter suburban communities.
Flexibility
Because apartments are typically rented on a month-to-month basis, they offer more flexibility to move without breaking a lease. However, for condo owners, selling or renting out their property can take a considerable amount of time and effort.
Condo Maintenance
In a condominium, maintenance is usually well-organized, in comparison to apartments. Condos require less personal involvement in maintenance. With condo ownership, you pay a monthly fee, known as the maintenance fee. This fee is used to pay for maintenance services of the common areas, amenities, and the exterior of the building. For example, repairs to building roofs, walls, lawn care, snow removal, and community swimming pools are paid for using the maintenance fee. Therefore, condo living is relatively hassle-free when it comes to maintenance, making it a more relaxed option for those not willing or able to keep up with regular property upkeep.
Apartment Maintenance
Apartment living provides a more hands-off approach to homeownership. The management company assumes the responsibility of all maintenance tasks, which includes repair and upkeep in the common areas and grounds and to the buildings themselves. However, repairs are only completed after residents report the problem, and efforts are made to schedule tasks during regular business hours. Additionally, the staff does not provide cleaning services for personal units. However, the costs of these services are included in rent but can vary depending on the size and condition of the unit.
Maintenance Cost Comparison
When it comes to maintenance costs, apartments are usually cheaper than condos. As mentioned above, the maintenance fee in a condominium is included in the monthly HOA fee. Condo owners are thus required to pay a higher monthly fee which covers building maintenance costs. While apartments are usually cheaper in rent than condos, the cost of maintenance is still high if you plan to invest in a personal property in the future.
Maintenance Flexibility
In terms of flexibility of maintenance, apartments offer more, since the management company takes care of all maintenance concerns and needs. This means that residents can travel and enjoy their leisure time without worrying about doing any repair work. On the other hand, Condos require the homeowner's management of maintenance tasks, which can be put on hold during a vacation if a pressing issue does not occur. Maintenance tasks such as fixing a leaky faucet can all be done comparatively quickly and easily, ensuring your property remains secure and stays in a pristine condition.
Condo vs Apartment: Fees
Condos usually have fees for all owners to pay for building/grounds upkeep based on a proportionate basis. This typically covers everything from building costs to shared amenities such as pools or gyms. With apartment living, these costs are generally taken care of by the landlord and may be included in your rent costs, not a separate bill.
Units
When it comes to units, the layout and design vary in both apartments and condos. Apartments typically offer more 1 bedrooms and 2 bedroom apartments. While in condos you have a range of sizes and designs available. Both have plenty of amenities to make you feel at home.
Amenities
When choosing between apartments and condos, amenities play a key role. Some complexes offer an on-site gym, pool, and even lounges exclusively to tenants or owners. Here at Westbay Management Company, we offer a wide range of amenities, suited to every lifestyle. Let us help you find your perfect amenity!
Rental Policies
Another important factor in choosing between apartments and condos is the rental policies. Both have different policies when renting. With apartments, they generally are only available for rent whereas those who own Condos are allowed to rent on their own. Finding a new home can be difficult and time-consuming, but we're here to help make the process easier for you!
Community Living
People who are looking to socialize and build relationships with people in a more tight-knit environment will find condos more appealing. This type of residential arrangement offers a sense of community with individuals who share your interests and values. However, apartments may not offer the same level of connectedness since your neighbors may change frequently, and chances of building closer relationships might be more limiting.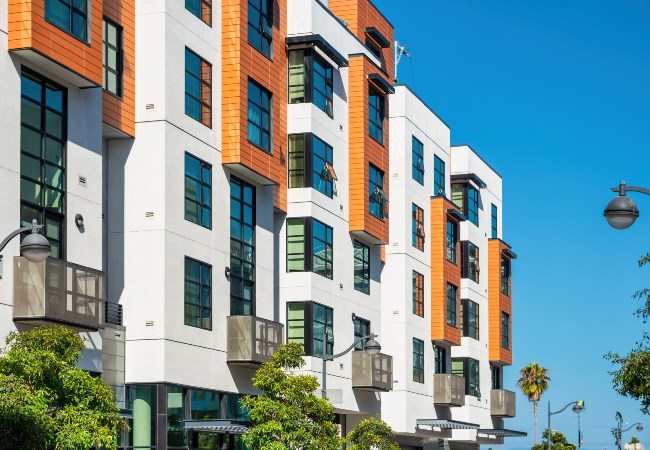 Contact Westbay Management to Discover Your New Home!
At Westbay Management Company, we want to help empower you in making the best choice for your lifestyle. Whatever your preferences may be, we have luxury apartments and condos that are perfect for you. With amenities, rental policies, fees, and more to think of, we take care of all the burdens so you can choose the home of your dreams without the hassles. Get in touch with us today in Lansing and start your journey into an exceptional living experience!