Skip to Content
Apartment Application Process

Finding an Apartment in Lansing, MI
Westbay Management Company offers some of the best apartments in Lansing, MI, at affordable prices, with impressive amenities. The first step towards getting into any apartment, though, is the apartment application process. While the application process for apartment homes may vary a little bit, it's usually a very similar process from complex to complex. It is pretty straightforward, as we will explain.
The Apartment Application Process: What to Expect When Applying for an Apartment
If you are looking for an apartment, you may already know that the rental market is competitive right now. Prospective landlords get large numbers of applications for the same apartment, and they have to narrow the field. For a would-be tenant, preparation is key. Be prepared for the rental application process by having all of your information lined up ahead of time.
What's the Typical Rental Application Process?
For every apartment, there is an apartment application to complete. Sometimes these applications are online, but many leasing offices still want the prospective tenant to come to the office to hand in the form. Every landlord is different, and you should be prepared to complete the form online, email it, take it directly to the landlord or the building's rental office, or turn it in at the open house. All of these are possibilities, so speak to your prospective landlords about their preferences. The important thing is to get the application in as quickly as you can, to get the ball rolling on your approval process.
What Do Property Managers Look For in a Rental Lease Application?
Be prepared to provide plenty of personal information, including your Social Security number, driver's license number, employment information, income, and prior residential addresses. Some landlords ask for tax returns. The point is for the landlord to be able to run a thorough background check. If you have rented an apartment before, you will need to provide your rental history.
When you are providing your rental history, it is a great idea to have positive references from your prior landlords. If your previous landlord can speak well about your rental history and ability to make on-time payments, it will go a long way toward boosting a potential landlord's confidence in you. Be aware that past medical bills can affect your credit score and appear on background checks, so it's wise to disclose anything you think might affect your chances of being approved.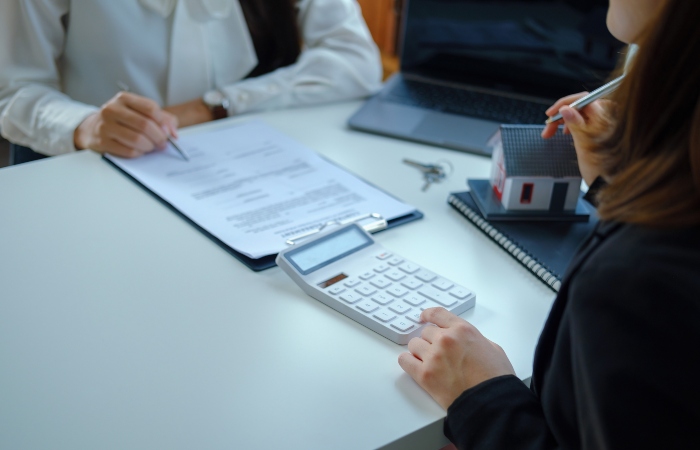 How Much Is the Renter's Application Fee?
While the apartment application fee process is fairly standard, fees vary from apartment to apartment. Typically, it runs between $35 and $75 but be prepared for it to be more in some cases. Landlords charge application and screening fees to cover the background and credit checks. These fees are non-refundable and separate from the security deposit and first month's rent, which you will need to be prepared to pay if you are approved.
Documents for the Apartment Application Process
Each application is unique, so it's important to communicate with the landlord or management company ahead of time to determine which documents you will need to provide. Generally speaking, you should expect to need:
Photo ID
Letter of employment
Copies of your last two pay stubs
Copies of your last three bank statements
Tax returns for the two years prior
W-2 forms from the same two years
Documents regarding your assets
Contact information for you, your employer, your prior landlord, etc
Reference letters from prior landlords
Personal or professional references
Vehicle information
Pet information, if applicable.
What to Include on a Renter's Application?
Proof of Income, so that your prospective landlord knows you can afford the rent.
Credit check or credit score, to prove that you are financially dependable.
Background check to show any red flags in your past. If you think something might trip you up, it's good to provide context for your landlord.
Rental history, previous landlord or personal references, to make the application process go more smoothly.
Co-signer application if you have no or low credit, or if your income isn't three times the cost of rent.
A cover letter introducing yourself and explaining things like bad credit because of medical bills, a conviction in your past, low income, but a clear path of career progression. This may not get you the apartment, but it can help boost your landlord's confidence in you and improve your chances.
How Long Does Approval Take?
How long does it take to process an apartment application? It varies, but the apartment application approval process usually takes 24 to 72 hours. It's wise to ask when you should expect a decision because different landlords have different situations that affect their decision-making process. Once the application has been processed, there may be an additional wait for credit and background checks.
If You're Approved, It's Time to Sign the Lease
Bring everyone living in the apartment, along with the co-signer, to sign the lease. The lease details expectations and length of rental, typically a year. Read the lease carefully so that you can discuss concerns with the landlord before you sign. Be prepared to pay the first month's rent, security deposit, and any move-in fees at the time of the lease signing.
Preparation Is Key to Renting Your Next Apartment
It may seem overwhelming to gather all of this information when you're applying for an apartment, but once you have gotten everything together, you can bring your information to every apartment showing you attend. It's also smart to have everything in electronic form so that you can be ready to email them if necessary.
Contact Westbay Management to Learn More
Whether you are looking for an apartment, a house, or a commercial property in Lansing, MI, Westbay Management has what you need. Committed to keeping our properties affordable while investing in their quality, we provide our clients with apartments and houses that meet our high standards, with the very best living conditions, community features, and amenities. Our one and two-bedroom apartments feature affordable monthly rates and many amenities, including indoor or outdoor pools and activities at the clubhouse for the whole family. In our beautiful suburban neighborhoods, you can buy or rent a home on a tree-lined street with green spaces and well-maintained parks nearby, and it won't break your budget. And when you need conveniently located office space, our commercial properties offer a spacious office environment with a professional appearance and everything you need to run your daily operations. Don't wait to find your perfect place! Call us today or contact us through our website.